What You Need to Know Before Sourcing from Vietnam
Vietnam is a rising star in the global sourcing market, offering many advantages for buyers looking for quality products at competitive prices. Whether interested in textiles, electronics, furniture, or consumer goods, Vietnam has something to offer you. In this article, we will explore some of the benefits and challenges of sourcing from Vietnam and provide tips on finding reliable suppliers and managing your orders.
What are the benefits of Sourcing from Vietnam?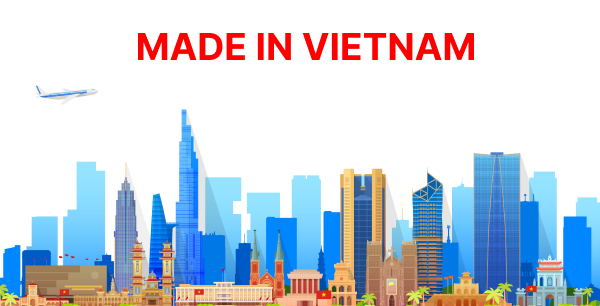 Economic growth
Vietnam is one of the fastest-growing economies in the world, with an average annual GDP growth rate of 6.5% from 2016 to 2020. Despite the impact of the COVID-19 pandemic, Vietnam was one of the few countries that achieved positive growth in 2020, thanks to its effective containment measures and resilient export sector.
Low labor costs
Vietnam's labor costs are generally lower than those of China and other Southeast Asian countries. According to Vietnam Briefing, the average monthly wage in Vietnam was US$190 (VND 4.3 million) in 2020, compared to US$380 (VND 8.7 million) in China. This makes Vietnam an attractive option for labor-intensive products such as clothing, footwear, and furniture.
Diverse manufacturing base
Vietnam has a strong and diverse manufacturing sector, producing a wide range of products for both domestic and international markets. Some significant products you can source from Vietnam include textiles and garments, footwear, consumer electronics, machinery and equipment, furniture and wood products, plastic and rubber products, coffee and tea, seafood, and agricultural products.
Free trade agreements
Vietnam has signed several agreements (FTAs) with major trading partners such as the US, the EU, the UK, Japan, Australia, Canada, and others. These FTAs reduce or eliminate tariffs and non-tariff barriers for Vietnamese exports, making them more competitive and accessible globally. For example, the EU-Vietnam Free Trade Agreement (EVFTA), which occurred in August 2020, eliminates 99% of tariffs on goods traded between the parties for seven years.
Proximity to China
Vietnam's geographical location near China gives it an edge in sourcing raw materials and components from the world's largest manufacturing hub. Many Vietnamese suppliers have established supply chains with Chinese counterparts, allowing them to source quality inputs at lower costs and with less bureaucracy. This also gives buyers more control over their supply chain and reduces disruption risks.
Challenges of Sourcing from Vietnam
Infrastructure limitations
Despite its rapid development, Vietnam faces infrastructure challenges that may affect logistics performance and delivery time. According to the World Bank's Logistics Performance Index (LPI), which measures the efficiency and quality of trade logistics services across countries, Vietnam ranked 39th out of 160 countries in 2018. Some of the issues that Vietnam needs to address include road congestion, port capacity, customs clearance procedures, and power supply.
Quality inconsistency
While Vietnam has improved its quality standards and compliance over the years, some buyers may still encounter quality issues when sourcing from Vietnam. This may be due to some suppliers' lack of experience or expertise, inadequate quality control systems or testing facilities, or poor communication or coordination between buyers and suppliers. Therefore, buyers must conduct thorough due diligence on potential suppliers, inspect samples and production processes before placing orders, and monitor quality throughout the order fulfillment cycle.
Language barrier
Although English is widely taught and spoken in Vietnam's major cities and industrial zones, some suppliers may have limited English proficiency or prefer to communicate in Vietnamese. This may cause misunderstandings or delays in communication between buyers and suppliers. To overcome this challenge, buyers may need to hire local interpreters or agents who can facilitate communication and negotiation with suppliers. Alternatively, buyers can use online platforms such as Global Sources that provide verified suppliers with English-speaking staff.
Tips for Sourcing from Vietnam
Do your research
Before sourcing from Vietnam, it is advisable to do some market research on the product category that you are interested in. You should understand the market size and demand trends, the competitive landscape, the regulatory requirements, the production costs and margins, and the potential risks and opportunities. You can use online sources such as  Vietnam Insider, Vietnam Briefing, and others to access relevant information and insights on the Vietnamese market.
Find reliable suppliers
Finding reliable suppliers is crucial for successful sourcing from Vietnam. You can use various methods to identify and evaluate potential suppliers, such as online directories, trade shows, referrals, or third-party verification services. Partnering with local sourcing expert companies like Aladdin Sourcing can be an effective way to find verified suppliers from Vietnam. These experts have extensive knowledge of the local market and can provide valuable insights and connections. They can help you filter suppliers by country and product category, send requests for quotations (RFQs) to multiple suppliers, and compare their offers and capabilities. Working with a local sourcing expert can streamline the sourcing process and enhance your chances of finding reliable suppliers in Vietnam.
Negotiate terms and conditions
Once you have shortlisted your preferred suppliers, you should negotiate the terms and conditions of your order with them. You should discuss and agree on the following aspects: product specifications, quality standards, order quantity, price, payment terms, lead time, shipping method, warranty, and after-sales service. You should also sign a contract or a purchase order that clearly states the agreed terms and conditions and protects your rights and interests in case of disputes or problems.
Manage your order
After placing your order, you should monitor its progress and quality throughout production and delivery. You should communicate regularly with your supplier and request updates on the status of your order. You should also arrange for quality inspections at different stages of production, such as pre-production, during production, and pre-shipment. You can either conduct the inspections yourself or hire a third-party inspection company to do it for you. You should also prepare the necessary documents and certificates for customs clearance and importation of your goods.
Conclusion
Sourcing from Vietnam can be a rewarding experience for buyers looking for quality products at competitive prices. Vietnam offers many advantages, such as economic growth, low labor costs, a diverse manufacturing base, free trade agreements, and proximity to China. However, buyers should also be aware of challenges like infrastructure limitations, quality inconsistency, and the language barrier. By following the tips above, buyers can overcome these challenges and enjoy a smooth and successful sourcing journey from Vietnam.