How HOPE Platform Can Help You Connect with Quality Furniture Manufacturers in Vietnam
Vietnam is a rising star in the furniture industry, with a strong potential for export to major markets such as the US, Europe, and more. However, finding reliable manufacturers in Vietnam can be challenging for international buyers, as there are many factors to consider such as quality, price, delivery time, and communication. Fortunately, there is a way to find trustworthy suppliers through HOPE Fairs – an online platform for exhibition that helps international buyers connect with Vietnam furniture and handicraft manufacturers easier.
Who created HOPE Fair?
The HOPE Platform, developed by the Handicraft and Wood Industry Association of Ho Chi Minh City (HAWA), serves as a virtual gateway to the Vietnam Furniture Industry. HAWA, with its more than 500 members operating across various fields of the furniture industry, has been supporting the industry since 1991. As the most long-standing association in the industry, HAWA has played a crucial role in the development of Vietnam's furniture and handicraft sector, actively promoting and connecting Vietnam's furniture to the world. The association has also organized many important activities to promote and connect Vietnam furniture to the world, such as:
• Vifa Expo – Vietnam International Furniture & Home Accessories Fair – the biggest international fair in furniture, home decoration, and accessories for export in Vietnam, and one of the leading furniture fairs in the ASEAN region.
• A series of events, seminars, webinars, etc. related to the industry.
• B2B matching and supporting programs for HAWA's members, both offline and online.
• HOPE Platform – an outstanding online platform for exhibition where international buyers can easily meet Vietnam furniture and handicraft manufacturers.
How does HOPE Platform help international buyers?
HOPE Platform is the first "made in Vietnam" online exhibition platform for the Vietnam furniture industry. It was developed in response to the challenges of the pandemic outbreak and the digital era, as a solution for Vietnam furniture and home accessories manufacturers to showcase their products and capabilities to the world.
HOPE Platform features:
A collection of Vietnam's acclaimed furniture companies, covering various categories that are in high demand by international buyers.
A professional service that allows visitors to easily find out and evaluate Vietnam's major manufacturers and thousands of quality products displayed attractively.
A convenient source and connection tool that enables visitors to contact and communicate with the most suitable suppliers via multiple channels.
A number of features that optimize users' experiences, such as smart filters, exclusive "minisite", E-catalogue, new arrival collection, seasonal collection, scale of production, international certificates, capacity profile, virtual tours of showrooms and factories, etc.
Regular events and activities that provide rich information and insights about the industry and the market trends.
A dynamic support team that assists visitors with any inquiries or issues.
How to leverage your furniture sourcing methods through HOPE Platform?
If you are an international buyer looking for furniture sourcing in Vietnam, you should look for suppliers from trusted resources, and HOPE Platform is one of them as it is developed by a trusted association.
To use HOPE Platform, you first need to create a free account. After login, you can check the Company list on the platform filtered by Product Types to meet your specific needs. Those product types include:
Bathroom Furniture
Bedroom Furniture
Children & Nursery Furniture
Contract Furniture
Dining Room Furniture
Furniture Hardware
Hardware
Home Accessories, Gift & Handicraft
Hotel Furniture
Interior Fitting
Living Room Furniture
Office Furniture
Others
Outdoor & Garden Furniture
Services
Wood Material & Panels
You can also use advanced filters to narrow your search, such as finding manufacturers by "Export Markets" which cover most of the major furniture export markets of Vietnam such as US, Europe countries and Japan, Korea, etc. You can also filter by Factory Capacity where you can select the number of containers per month. There may not be many manufacturers in the list if you apply too many filters, but if you find one, it's worth checking them out.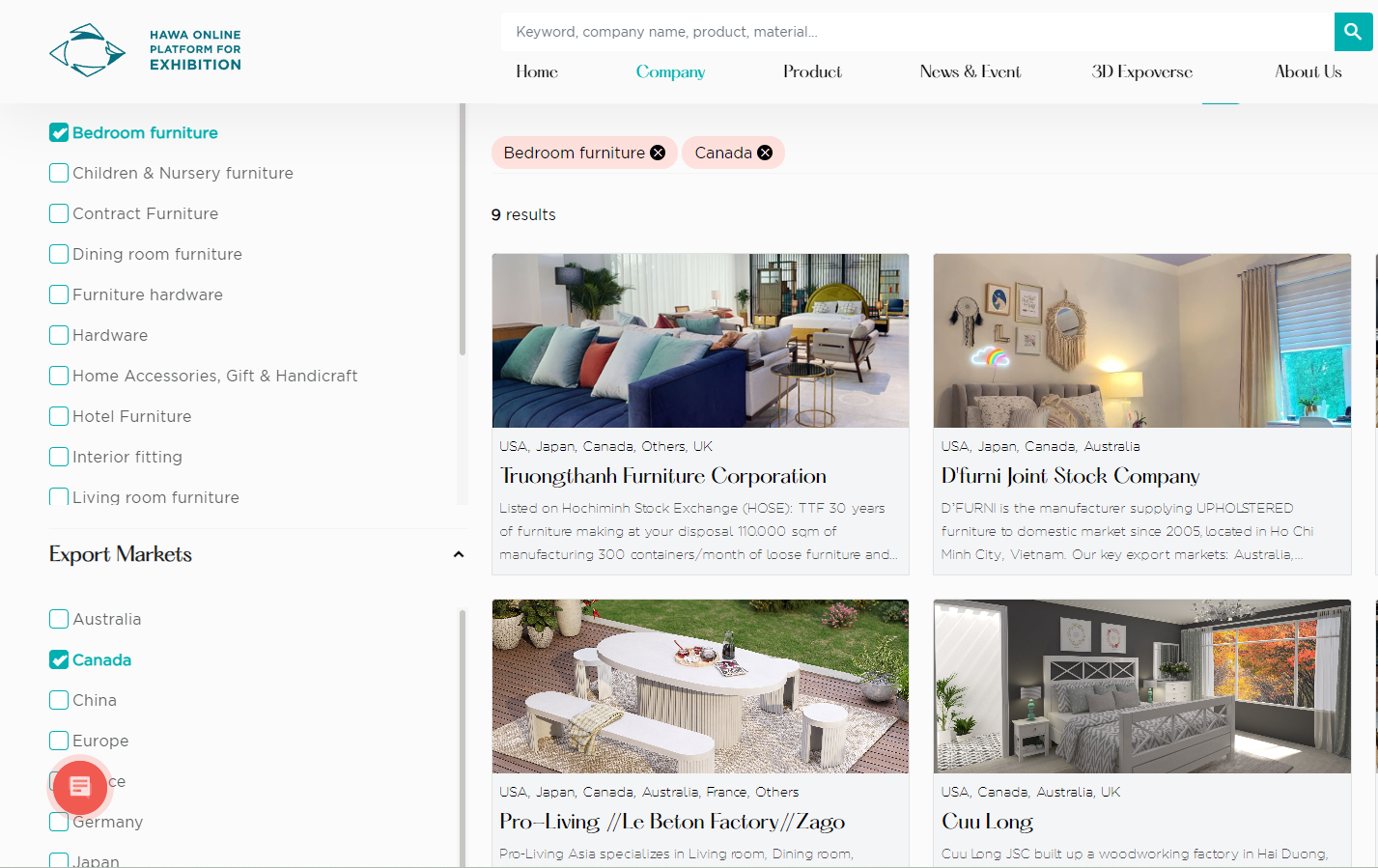 How to connect with manufacturers via HOPE Platform?
Each company has their own exhibition profile on HOPE Platform. Their page contains all the basic information such as website, phone number, personal email address, and also a 360 virtual view of their showroom or factory. You can easily find their contact details or you can message them directly through the platform.
By looking for manufacturers on HOPE Platform, it is also recommended to participate in other B2B Matching events to meet the suppliers and evaluate their capacity. The annual fair Vifa Expo is a great furniture tradeshow that you don't want to miss if you really want to find a good supplier in Vietnam.
Why should you work with a trusted furniture sourcing agent?
Working with a factory without a sourcing agent may seem like a cost-effective option, but it can also bring you many headaches, such as:
Language and cultural barriers that can cause misunderstandings and delays.
Lack of quality control and inspection that can result in defective or substandard products.
Difficulty in negotiating prices and terms that can affect your profit margin and cash flow.
Risk of fraud or scams that can damage your reputation and business.
That's why working with a trusted furniture sourcing agent can be a smart choice, as they can offer you many benefits, such as:
Expertise and experience in the local market and the industry.
Good connection and relationship with local factories that have been verified and vetted.
Quality assurance and inspection that ensure your products meet your standards and specifications.
Negotiation and communication skills that help you get the best deals and terms.
Risk management and problem-solving abilities that protect your interests and reputation.
If you are looking for a professional sourcing service for furniture, Aladdin Sourcing is a reliable partner that you can trust. With strong connections to local factories and in-depth knowledge of their capacities, Aladdin Sourcing can simplify the sourcing process and guarantee product quality, enabling you to streamline your business operations and maximize your success. Contact us today!